Transformed, vibrant skin in minutes
Rather than just providing a basic facial or massage-like experience, Clinical Facials dives deep into your skin's particular needs and ways in which it can benefit from a more tailored approach. Our clinical approach utilizes revolutionary technology to provide maximum results and relaxation in a single treatment. Our licensed professionals will use a combination of personalized products, innovative treatments and nourishing enhancements to create a customized facial that fits your specific skin type and concerns. The various stages of each facial include cleansing, analysis of your skin, exfoliating and extraction

Perfect for restoring an optimal level of moisture back into your complexion!
New Skin YYC Clinical Facials
Express Facial | 45 Minutes

$75

This facial will provide a quick boost to your skin. Great as a maintenance facial or simply for a pick me up! Choose from one of our many hydrojelly masks including charcoal, hyaluronic acid, vampire polylactic, brightening and skin warrior.

Recommended for: All skin types

Evergreen Facial | 60 Minutes

$85

This age management facial is for dry / dehydrated and environmentally challenged skin, which in Alberta is something we all face. By incorporating gentle alpha hydroxy acids with skin balancing ingredients, this facial will tone and lessen the appearance of lines and wrinkles resulting in plump, smooth skin.

Recommended for: Aging skin

Lua Facial | 60 Minutes

$125

A luxurious facial which includes ingredients that absorb oil and normalize sebum production to detoxify and gently exfoliate skin. Boosts the skins antioxidants and skin healing agents to increase the nourishment and hydration it needs to function properly.

Recommended for: Oily and congested skin, Acne Grades 1 and 2

Sol Facial | 60 Minutes

$125

This facial will hydrate and renew the skin with enzymes that will increase cell turnover and potent antioxidants that fight free radicals. Helps to restore healthy skin cells and increase the transport of other nourishing ingredients deep into the skin. Sol Facial will rebalance hydration and improve tone and texture of skin. .

Recommended for: Mature skin, sensitive skin, dry and dehydrated skin

Kananaskis Facial | 60 Minutes

$125

An elegant treatment that combines mild exfoliation enzymes, lactic acid and jojoba beads. It will rejuvenate and brighten dull skin. With the help of antioxidants, Vitamin C and peptides the Kananaskis facial will leave you skin youthful and glowing.

Recommended for: All skin types
Bow Valley Facial | 60 Minutes

$125

A facial that will treat acne and prevent future breakouts. It targets inflammation using acne fighting ingredients like benzoyl peroxide, salicylic acid and sulfur. Weekly or bi-weekly treatments are recommended until the breakouts are under control and then continuing with maintenance treatments. .

Recommended for: Inflammatory acne grades 3 and 4

CBD Micro Silver Facial | 60 Minutes

$125

A facial that will regenerate tired, dull and sluggish cells by boosting cellular functions for a healthy glow that's beyond luminous and radiant. This treatment is packed with powerful peptides and micro silver to immediately increase hydration levels and provide anti-aging effects leaving skin feeling plump, firm and smooth. .

Recommended for: All skin types and conditions, particularly dry/dehydrated skin and sensitive skin

Back Facial | 60 Minutes

$145

This treatment is specifically formulated to exfoliate and deep cleanse your back. A soothing treatment that will leave your skin clear and smooth. .

Recommended for: All backs!

Mother Nature's Facial | 60 Minutes

$145

This treatment is specifically targeted at expectant mothers. It is a 2 part experience that starts with nurturing enzyme facial to pamper and relax the mom-to-be. We then move on to a belly facial that focuses on hydrating and refreshing the belly skin. Perfect for itchy bellies and aids in the prevention of stretch marks. .

Recommended for: All healthy mothers-to-be!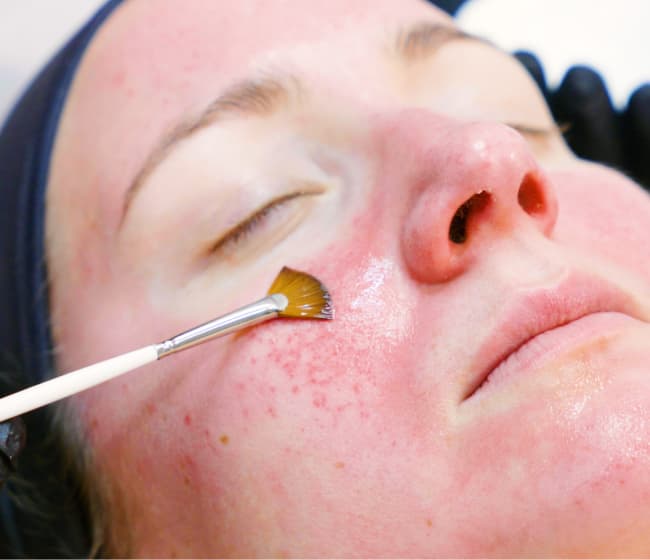 Benefits of
Clinical Facials
Made with the best natural ingredients and modern techniques, our facials are designed to purify and nourish your skin. With each facial having its own unique formulation, they potential benefits are wide ranging, but all have these benefits in common:
Removes toxins from the skin

Increases collagen production

Reduce the appearance of acne scarring, sun damage, and age spots

Reduces fine lines and wrinkles
Frequently Asked Questions​
Each facial begins with an invigorating cleanse that will deeply clear away any impurities in order to provide a fresh start for the products that come next. We then gently exfoliate before firming up targeted areas with extractions if desired. To finish, warm oils are massaged deeply into your face while we apply a specially tailored mask just for you – perfect for restoring an optimal level of moisture back into your complexion! 
Yes, clinical facials are safe when performed by a qualified and experienced aesthetician. 
The frequency of clinical facials varies from person to person, depending on your particular skin type and needs. It's generally recommended that individuals with normal skin attend regular facials every 4-6 weeks to maintain the health of their skin. For those with more problematic skin types, such as acne-prone or sensitive complexions, clinical facials may be needed more frequently (every 1-2 weeks).
Experience Our Medical Grade Services Today!
Our services are designed to cater to all skin types, and we only use the best products in the industry to ensure that you get the results you desire. We take pride in offering personalized services that are customized to each client's unique needs and preferences. Don't wait any longer, experience our services today and be amazed at the transformation in your skin!